Aeroponics can limit disease transmission since plant-to-plant contact is reduced and each spray pulse can be sterile. In the case of soil, aggregate, or other media, disease can spread throughout the growth media, infecting many plants. In most greenhouses these solid media require sterilization after each crop and, in many cases, they are simply discarded and replaced with fresh, certified sterile media.

A distinct advantage of aeroponic technology is that if a particular plant does become diseased, it can be quickly removed from the plant support structure without disrupting or infecting the other plants.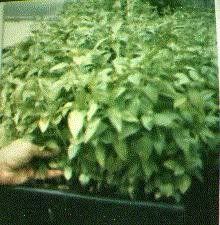 Basil grown from seed in an aeroponic system located inside a modern greenhouse was first achieved 1986

Due to the disease-free environment that is unique to aeroponics many plants can grow at higher density (plants per sq meter) when compared to more traditional forms of cultivation (hydroponics, soil and NFT). Commercial aeroponic systems incorporate hardware features that accommodate the crops expanding root systems.

Researcher du Toit, L.J., H.W. Kirby and W.L. Pedersen (1997). "Evaluation of an Aeroponics System to Screen Maize Genotypes for Resistance to Fusarium graminearum Seedling Blight." These researchers describe aeroponics as "valuable, simple, and rapid method for preliminary screening of genotypes for resistance to specific seedling blight or root rot."

The isolating nature of the aeroponic system allowed them to avoid the complications encountered when studying these infections in soil culture.