The discrete nature of interval and duration aeroponics allows the measurement of nutrient uptake over time under varying conditions. Barak et al. used an aeroponic system for non-destructive measurement of water and ion uptake rates for cranberries (Barak, Smith et al. 1996).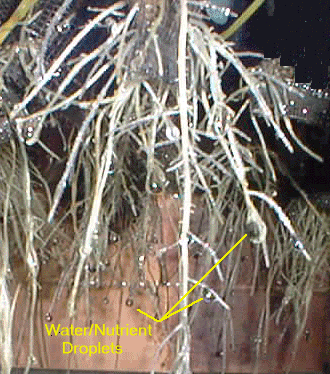 Close-up of roots grown from wheat seed using aeroponics, 1998

In their study, these researchers found that by measuring the concentrations and volumes of input and efflux solutions, they could accurately calculate the nutrient uptake rate (which was verified by comparing the results with N-isotope measurements). After verification of their analytical method, Barak et al. went on to generate additional data specific to the cranberry, such as diurnal variation in nutrient uptake, correlation between ammonium uptake and proton efflux, and the relationship between ion concentration and uptake. Work such as this not only shows the promise of aeroponics as a research tool for nutrient uptake, and also opens up possibilities for monitoring of plant health and optimization of crops grown in closed environments.