In 1998, Stoner received NASA funding to develop a high performance aeroponic system for earth and space. Stoner demonstrated that dry bio-mass of lettuce can be significantly increased with aeroponics. Utilizing numerous aeroponic advancements Stoner had developed made NASA history

Abstract: The purpose of the research conducted was to identify and demonstrate technologies for high-performance plant growth in a variety of gravitational environments. A low-gravity environment, for example, poses the problems of effectively bringing water and other nutrients to the plants and effecting recovery of effluents. Food production in the low-gravity environment of space provides further challenges, such as minimization of water use, water handling, and system weight. Food production on planetary bodies such as the Moon or Mars also requires dealing with a hypogravity environment. Because of the impacts to fluid dynamics in these various gravity environments, the nutrient delivery system has been a major focus in plant growth system optimization.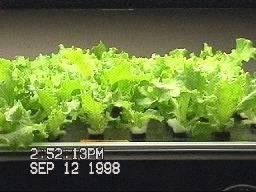 NASA aeroponic lettuce seed germination- Day 30

There are a number of methods currently utilized (both in low gravity and on Earth) to deliver nutrients to plants. Substrate dependant methods include traditional soil cultivation, zeoponics, agar, and nutrient-loaded ion exchange resins. In addition to substrate dependent cultivation, many soilless methods have been developed such as nutrient film technique, ebb and flow, aeroponics, and many other variants. Many hydroponic systems can provide high plant performance but nutrient solution throughput is high, necessitating large water volumes and substantial recycling of solutions and the control of the solution in hypogravity conditions is difficult at best.

Aeroponics, with its use of a hydro-atomized spray to deliver nutrients, minimizes water use, increases oxygenation of roots, and offers excellent plant growth, while at the same time approaching or bettering the low nutrient solution throughput of other systems developed to operate in low gravity. Aeroponics' elimination of substrates and the need for large nutrient stockpiles reduces the amount of waste materials to be processed by other life support systems. Furthermore, the absence of substrates simplifies planting and harvesting (providing opportunities for automation), decreases the volume and weight of expendable materials, and eliminates a pathway for pathogen transmission. These many advantages combined with the results of this research that prove the viability of aeroponics in microgravity makes aeroponics a logical choice for efficient food production in space.