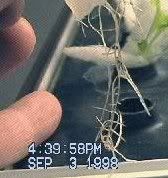 NASA aeroponic lettuce seed germination- Day 3
Plants grown using aeroponics spend 99.98% of their time in air and 0.02% in direct contact with hydro-atomized nutrient solutionThe time spent without water allows the roots to capture oxygen more efficiently. Furthermore, the hydro-atomized mist also significantly contributes to the effective oxygenation of the roots. For example, NFT has a nutrient throughput of 1 L/minute compared to aeroponics' throughput of 1.5 ml/minute.
The reduced volume of nutrient throughput results in reduced amounts of nutrients required for plant development.
Another benefit of the reduced throughput, of major significance for space-based use, is the reduction in water volume used. This reduction in water volume throughput corresponds with a reduced buffer volume, both of which significantly lighten the weight needed to maintain plant growth. In addition, the volume of effluent from the plants is also reduced with aeroponics, reducing the amount of water that needs to be treated before reuse.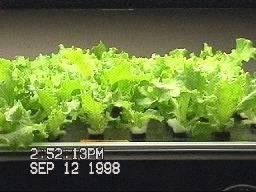 NASA aeroponic lettuce seed germination- Day 12
The relatively low solution volumes used in aeroponics, coupled with the minimal amount of time that the roots are exposed to the hydro-atomized mist, minimizes root-to-root contact and spread of pathogens between plants.