19th Century Orangerie in Weilburg, Germany

The idea of growing plants in environmentally controlled areas has existed since Roman times. Doctors for the Roman emperor Tiberius prescribed him a cucumber daily. The Roman gardeners used artificial methods (similar to the greenhouse system) of growing to have it available for his table every day of the year. Cucumbers were planted in wheeled carts which were put in the sun daily, then taken inside to keep them warm at night. The cucumbers were stored under frames or in cucumber houses glazed with either oiled cloth known as "specularia" or with sheets of mica. (Pliny the Elder and Columella).

The first modern greenhouses were built in Italy in the sixteenth century to house the exotic plants that explorers brought back from the tropics. They were originally called giardini botanici (botanical gardens). The concept of greenhouses soon spread to the Netherlands and then England, along with the plants. Some of these early attempts required enormous amounts of work to close up at night or to winterize. There were serious problems with providing adequate and balanced heat in these early greenhouses.

Jules Charles, a French botanist, is often credited with building the first practical modern greenhouse in Leiden, Holland to grow medicinal tropical plants.

Originally on the estates of the rich, with the growth of the science of botany greenhouses spread to the universities. The British some times called their greenhouses conservatories, since they conserved the plants. The French called their first greenhouses orangeries, since they were used to protect orange trees from freezing. As pineapples became popular pineries were built. Experimentation with the design of greenhouses continued during the Seventeenth Century in Europe as technology produced better glass and construction techniques improved. The greenhouse at the Palace of Versailles was an example of their size and elaborateness; it was more than 500 feet long, 42 feet wide, and 45 feet high.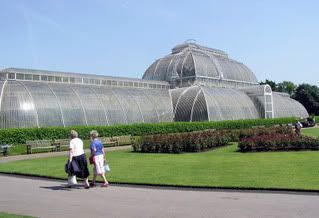 Victorian conservatory, Kew Gardens

In the nineteenth Century the largest greenhouses were built. The conservatory at Kew Gardens in England is a prime example of the Victorian greenhouse. Although intended for both horticultural and non-horticultural exhibition these included London's Crystal Palace, the New York Crystal Palace and Munich's Glaspalast. Joseph Paxton, who had experimented with glass and iron in the creation of large greenhouses as the head gardener at Chatsworth, in Derbyshire, working for the Duke of Devonshire, designed and built the first, London's Crystal Palace. A major architectural achievement in monumental greenhouse building were the Royal Greenhouses of Laeken (1874-1895) for King Leopold II of Belgium.In Japan, the first greenhouse was built in 1880 by Samuel Cocking, a British merchant who exported herbs.

In the Twentieth Century the geodesic dome was added to the many types of greenhouses.

In 2005 David Chelf PhD. in physics (University of California, Berkeley) introduced the first wind-assisted, air-supported greenhouse. Wind-assisted, air-supported greenhouse