If you want to build a room or all rooms in your home with soundproofing material for privacy living. I would like to tell you about sound proof walls from Supress® Sound-Engineered DrywallTM and Sound-Engineered PlywoodTM.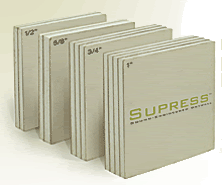 There are the answers to unwanted sound and noise in residential and commercial structures. So, you can choose for your home to provide sound absorption in your home theaters, media and music rooms, children's rooms and play areas.

Supress Plywood underlayment can easily be added to upgrade existing floor systems. An existing room in your home, office or even a whole structure. Furthermore, if you want to make a special quite room, also use sound proof floors too.